Individual safety products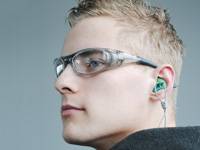 Services regarding head protection by André Klaßen - Master of optician and hearing aids.
The acceptance of safety products worn on the head is indispensable.
Non-fitting hearing protection as well as distorting prescription safety spectacles are notaccepted by the wearer and cause a reduction of wearing time and human performance.
Individualized products – adapted to the work environment and personal requirements – increase work performance and reduce downtime.
Your advantages are obvious:
Guaranteed and tested attenuation values
High accuracy
Good hearing of signals
Different acoustic filters available for customizable protection
High speech intelligibility
Hypoallergenic
print
Privacy policy
Imprint